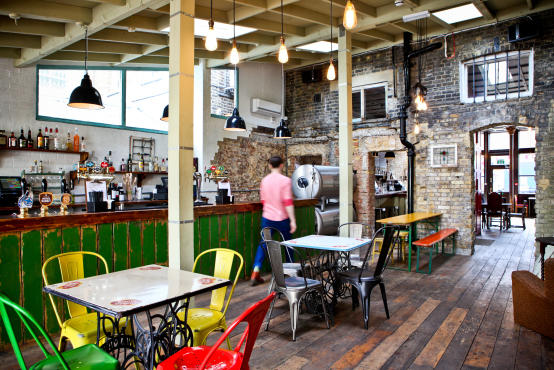 We stopped for a post-work drink at
The Crown and Shuttle
on Tuesday night. Describing itself as where 'louche lives on', it used to be a 'sordid, sleazy, shabby, strip club' languishing between Liverpool Street and its trendier sister, Shoreditch. As to be expected midweek on one of the hottest days so far, both bar areas and the garden were buzzing with a mix of cities and creatives but it didn't take us long to get served.
Inside, it's all brick walls and warped wood tables. Mismatched chairs and splashes of red lend a touch of former decadence and the high ceilings and stripped wood bars give it a bit of a scrubbed up spit-and-sawdust appeal. Service is brisk with a decent wine list and quite an extensive beer menu, featuring some very local brews.
Outside, you're met with a unexpectedly large garden. Brightly painted tables, chairs, destination-less doors are scattered throughout and there's a real welcoming feel here. We perched on some steps (no chance of getting a seat!) and people-watched, eyeing up the towering enamel bowls that came out of the onsite kitchen cart.
Food's ordered at the bar and there's a great mix of smalls and larges - spicy wild white prawns with garlic caught my eye, as well as the greek salad (both £4.60). Others around us were opting for the chicken wings with mango chilli salad and BBQ spiced pork ribs, but we opted for a bowl of stringfries each - that come with a seasoning of your choice. A huge portion for £3, they definitely hit the post-work spot.
Despite having lived East for almost 6 years, I'd never stumbled into this place before but it's definitely somewhere to come back to. We stayed comfortably until the garden closed and we'd had our fair share of Estrella, leaving with the reluctance of those out on a 'school night'. The Crown and Shuttle gets
four and a half
out of
five
, because I was so impressed - hopefully the half point will be awarded once I go back and fill my boots.
Photos taken from The Crown and Shuttle website