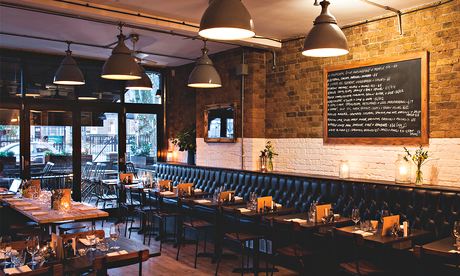 Think of East London and food and there are a few places that'll probably spring to mind - the chicken shops along the Mile End Road, the curry houses in Brick Lane, the Turkish cafes of Stoke Newington... Burger joints are rife right now and if you fancy a Vietnamese, you just need to head to Kingsland Road. Times were, if you were in the market for something else, you'd have to schlep into Central at the very least but the ever-ongoing regeneration of everything east of the City means there's more on the doorstep than meets the eye.
I'd heard whispers about
8 Hoxton Square
. Brought to you by the people behind
10 Greek Street
, it's recently opened its doors in one of Shoreditch's most popular places. Tucked into the far side of the square, you'll find its unimposing facade bundled between Hoxton Bar & Grill and Ziegfried von Underbelly, and whilst it doesn't give much away, you'll be very pleased you stepped inside.
We went for dinner, turning up at about 9pm, before inevitably being turned away at the door. Whilst we were fumbling for somewhere else to try, the very friendly front of house nipped out to tell us there'd been a cancellation and would we like to come in? Yes, we definitely would. Seated at a table for four (each with our own numbered chair), we instantly felt in good company; there's a long table to share and covetable spaces up by the bar, if you're feeling particularly chatty.
Whilst scouring the cocktail menu, fresh bread was brought to the table with beautiful olive oil to dip into. I, of course, practically ate the lot before we'd even ordered our first Bramble, Rhubarb & Grapefruit Martini and Alcoholic Lemonade. To start, we shared olives and the fried goats cheese with pomegranate, asparagus and mint which was perfectly salty, creamy, fresh and crunchy all in one bite.
Choosing mains proved hard so we had to order a bottle of prosecco (a steal at £21 a bottle). To help, of course. The chalked up menu changes daily and we could have ordered everything from it. Instead, we opted for the prawns, chorizo and saffron aioli (declared tasty); middle pork, crushed new potatoes, mint and spring greens (melt in the mouth) and bream with beetroot, courgettes, Monk's beard and green olive tapenade (again, a perfect combination of sweet, salty, tender and crisp).
We couldn't manage dessert, despite how tempting it was, so opened a bottle of Cabernet Merlot (although the Valpolicella we tried was very good too) and chatted to the friendly waitress. The staff here genuinely care and are more than happy to chat, explain an ingredient and provide a recommendation for you. Vegetarian? They can handle that too.
A crazily recent discovery but one I'm very glad I made. 8 Hoxton Square is now on my top five places in town that I could eat at every day and tell everyone to do the same. Would I go back? 100%. This East London lovely gets a firm
five
out of
five.