I used to walk past
Tonkotsu
in Soho every day on the way to and from work, watching the bubbling vats of broth in the window and people queueing to sup and slurp on the noodles from beautiful black bowls. I never made it there as
Koya
always steals the prize for best ramen in Central, but catching up with H meant we decided to give its East outpost in Haggerston a try.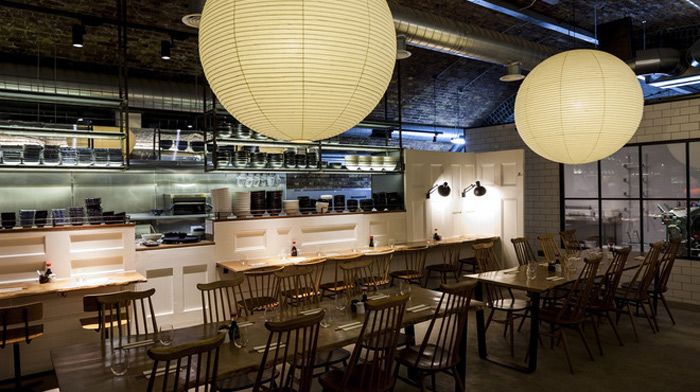 Tucked under the railway arches, this is a busy little place. An open bar kitchen along one side is lined with bottles and bowls, steaming and spitting over the stoves, whilst the back of the restaurant makes a feature of their prized noodle machine. We were shown to a tiny table tucked away at the back and threw ourselves into ordering almost straight away.
Ramen was a given so we decided to share the Tokyo - pork and chicken stock with medium thick noodles, mirin and soy pork belly with the classic soft-boiled egg and menma (bamboo shoots). This came out last, thankfully, as we'd also decided to order some sides to tuck into first that meant we could catch up without splashing the broth all over ourselves (or myself, as it turned out). The noodles had a great firm bite and the pork belly was melt in the mouth good; the only gripe I'd have would be the broth itself. I eat a lot of Vietnamese pho which is packed full of flavours, herbs and spices and is a world ahead in terms of depth of flavour so I felt the broth here was a little lacking and underwhelming, but of course Japanese and Vietnamese cooking are very different from one another.
But broth aside, onto the rest: we chose the prawn gyoza first (which came out last) and loved the perfectly cooked dumplings that split open to reveal the really moreish filling that cried out for its soy accompaniment, then the crab korroke which is described as a Japanese version of a crab croquette (read: crabcake) with homemade tartar sauce. Nicely seasoned and with three huge balls, this was a perfect little serving. Next up, the yellow tail sashimi with jalapeno and yuzo ponzo sauce and I have to admit, this may be the best yellow tail I've had with the expertly thin slices and the bite from the accompanying pickled veg that added that little bit extra. Last up was the salt and sansho pepper squid (always one to order) with lightly fried proper squid (no shop bought rings here) in a tangy lemon batter that could have benefited from something to dip on the side but no great loss nevertheless.
Drinks were pints of kirin ichiban, naturally, and dessert was the creme brulee. Decidedly unJapanese but the note on the menu admits they're bored of green tea ice cream so I applaud them for not taking themselves too seriously at all and I do love a good creme brulee. Our waitress was really friendly and apologetic when explaining a bit of a kitchen backlog and the wait between dishes wasn't too onerous anyway so more than happy to concede to a popular kitchen. Would I be back? For the ramen, maybe not but for the sides, yes.
Four
out of
five.