A couple of weeks ago my boss flew me over to New York City for two days for an important client meeting. A whistle-stop visit, I left London on late Wednesday afternoon after a couple of hours delay and arrived late evening New York time. After a hop, skip and a jump through immigration and a torturous wait in the taxi queue, I was soon in a yellow cab flying through tunnels into Manhattan. That first close up of the skyline just before we took the Lincoln Tunnel gave me butterflies - my last trip to the city was a whole eight years ago with three schoolfriends on a travel bursary.
My boss stays at
Hotel Americano
so we booked me in there too. A
Design Hotel
in the heart of Chelsea, it's a seriously sexy looking place to stay. Arriving at midnight with an early alarm already set, it was like a dream come true to be greeted with this room. Low lighting welcomed me in along with the in-room iPad softly playing Classical music (I later discovered they had some pretty good playlists for party preparations) and that bed? It was deliciously comfy and the perfect way to end the day after a quick shower with everything Aesop.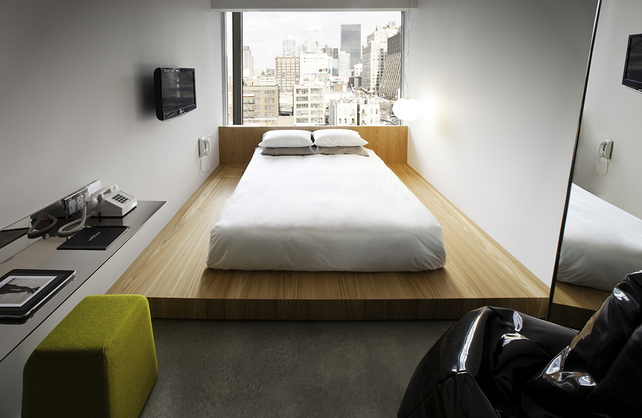 The meetings went well so we celebrated in style, starting at the rooftop bar which turns into a pool during the summer. We raised a few martinis to the Manhattan skyline before heading off for some very luxurious cocktails at
Baccarat
, a hotel that's just seen a cool $60 million refurb, and gives drinkers $10,000 thrones made from coyote fur to lounge around on. Truly decadent.
The rest of the trip involved walking crosstown from 20th to 51st and back, some much deserved wine, guacamole and chips in the downstairs bar and some more wine before I left for the airport for another delayed flight home. A short but very sweet stay in one of New York's most stylish hotels. I'm just trying to persuade my boss to take me back!