Not your normal Christmas lunch, we decided to hit up Peruvian Pisco place,
Ceviche
, for the work end of year party. Sitting pretty opposite world famous Ronnie Scott's and above
one of the best tattoo parlours in England
, Ceviche's a little Latino haven just bursting with energy.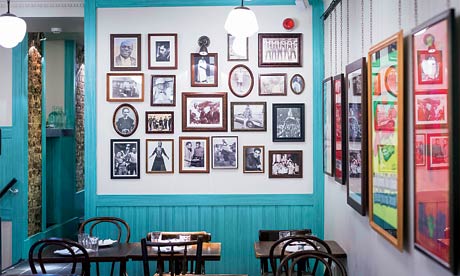 We kicked off with cocktails. All made with pisco (a grape brandy that tastes similar to cachaca), there's a selection of over ten to choose from. I started with the Pisco Fever - ginger-infused pisco, Fever Tree ginger ale, lime and bitters - which was a bit of a twist on the classic Moscow Mule before switching to Sarita's Miracle - cocoa-infused pisco, cranberry-infused pisco, condensed milk and malted milk biscuit - and sticking with that. The boys went for Pisco Sours which proved pretty popular, and the cerveza. We nibbled on cancha (a bit like popcorn), chifles (crisp plantain chips) and olives whilst browsing the menu.
Dishes are small and great to share, with a recommended three to four per person. We started with marinated octopus and chorizo skewers which were out of this world divine, chicken wings in panca chilli, a pear and sheep's cheese salad, flame cooked beef fillet with chips (had to be done) and two of the classic ceviche dishes. 'Ceviche' itself is fresh raw fish, marinated in citrus juices and then spiced (known as tiger's milk). Perhaps not one for those who are a little funny about these kinds of things but we went for the Don Ceviche (fresh seabass ceviche in amarillo chilli tiger's milk, limo chilli, sweet potato and red onions) and the Drunken Scallops (thinly sliced king scallops, pisco, pomegranate and limo chilli). It was all about the flavours - the zingy citrus masks the delicate seabass in the first but leaves you feeling fresh, whilst the scallop dish was a lot more basic and distinctly fishy. We weren't completely sold on the ceviche so moved on to the second round of food.
We ordered practically everything on the menu - the cheese and chard tequenos were particularly good, the boys loved the confit duck with coriander and dark beer rice, and the corn cake was an interesting spongelike bread made savoury with raw tomato and onion.
Whilst we weren't completely convinced by the cuisine, the service was good and quick, for the most part despite it being completely rammed. The decor's very colourful and fresh with washes of blues and the 'being a little bit different' added an extra component. We agreed we probably wouldn't go back but it was a great place to try. Go for something new and stay for the pulpo y chorizo -
that
won't disappoint you one bit.