Despite appearances, I do do other things than spend a seemingly inordinate amount of time in restaurants. I just don't always get round to writing about them. But I couldn't not blog about one of the best Saturdays I've ever had.
For Christmas, I bought my mum and I tickets to see
Matthew Bourne's Swan Lake
. If you haven't heard of it - where've you been hiding?! Whilst the swans in the original Tchaikovsky masterpiece are all played by women, Bourne's production is infamous for having a completely male ensemble. It's won multiple awards and is heralded as an important piece of dance.
But before we excitedly made our way down to Sadler's Wells, we found time for lunch at
Almeida
, a classic French restaurant just off Upper Street. The friendly staff gave us a table by the French windows (which open onto the street terrace in the summer) giving us the perfect opportunity to spy Matt Smith being swamped by fans whilst diving into the theatre opposite. We opted for the
menu du jour
to keep things simple and affordable, despite the a la carte being hugely tempting. We started with goats cheese 'bon bons' that came with a winter salad of pickled vegetables, persimmon and lardons that was the perfect combination of crunch and creaminess. I had the panfried sea bream with roasted aubergine puree to follow, which sadly was a little bland, but Mum's pork belly was much better - and oh, the crackling! We couldn't resist a third course and went for the poached orchard fruits with champagne sabayon (for mum) and the
petit pot de chocolat
for me. Three courses were ridiculously affordable at £20.00 and afterwards, we practically rolled down Upper Street to the theatre.
It was my first time at Sadler's Wells but it definitely won't be the last. Renowned for its productions, it's been the home to Bourne's Swan Lake on and off for the last ten years as well as a whole host of other performances. Predictably for its age, its modern inside but within the theatre itself, there's room for two circles above the stalls and an orchestra pit (which was fully utilised by the most fantastic musicians). We had seats in the second circle which gave us the most perfect view of the stage and we settled in to watch one of the most moving pieces of art I've ever seen.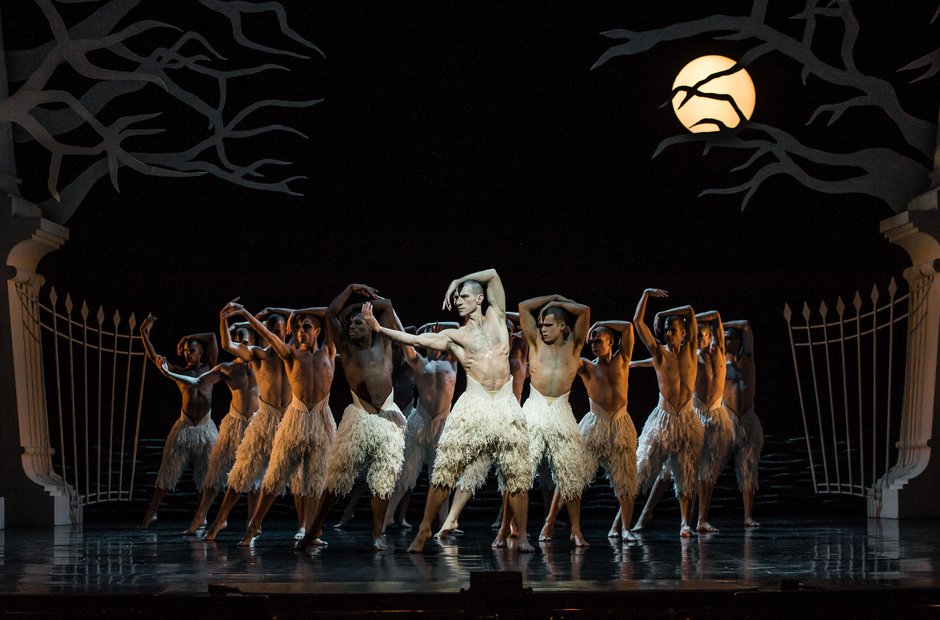 When I was younger, my mum used to take me to Buxton Opera House and I have lasting memories of velvet dresses, boxes of Maltesers in the theatre boxes, and the most beautiful music. We watched Swan Lake, Coppelia, Giselle, La Sylphide... and this performance took me right back to that girlish excitement. Matthew Bourne's interpretation of the ballet is incredible with comedic elements and little modern updates, whilst still remaining true to the incredible story of the Prince and the swans. It was so perfectly choreographed to the infamous score that it had both of us crying at the end, all the way through the applause at the end. If I could have stayed for the evening show, I would have and I'd have loved to have asked the dancers for a crash course in choreography...
Swan Lake's run at Sadler's Wells is almost over as it's about to head off on tour. If you can catch a performance, please do and buy me a ticket too?
Photos not my own as no cameras allowed!