We've been in Gray's Inn Road for a couple of months now and we're slowly but surely discovering the better places to nip out to at lunch. Sure, there's a few sandwich joints that are either full to bursting with a line out the door or eerily quiet and probably well worth avoiding. You have Pret, of course, and Tossed - the somewhat healthy option where you can build your own salads but using their online calorie tool, I discovered that my go-to comes out at over 700. That's double a Pret sandwich. Maybe not so healthy after all.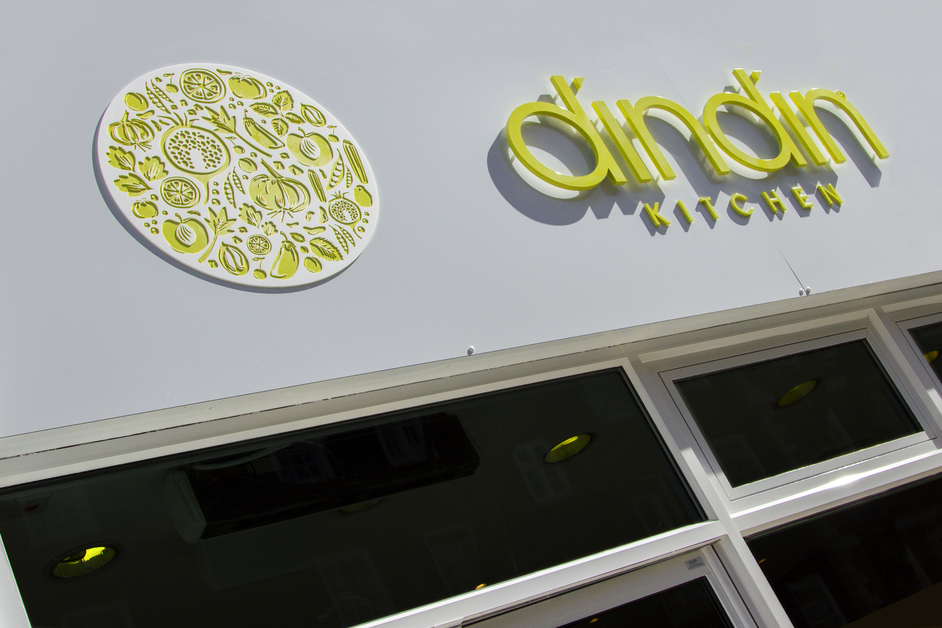 So on the hunt for something less guilt-making, I found newly opened Din Din Kitchen. A Persian easy-come-easy-go all-day cafe on the way to Chancery Lane, its airy white and lime green decor welcomes you in with the lure of freshness. Inside, you're greeted with a generous amount of space to sit in (I'm not sure how many people actually do), a typical 'grab and go' unit for food and drinks and a glass counter over various baked goods including London's newest fad, cronuts. Behind that, there's a form of open kitchen where I imagine items from the overhead menu get cooked to order, but I've never lingered long enough to know with any certainty.
Now I know nothing about Persian cuisine but there are some familiar sounding ingredients in the salads and wraps in the help yourself unit, which always strikes me as under stocked. There tend to be about four wraps to each flavour (goats cheese and caramelised fig; labneh and falafel; feta, mint & walnut and another filling that escapes me) and about five of each mini pot, which range from tomato and cucumber chopped salads to tabbouleh to protein heavy egg and spinach miniatures. For those wanting something warm, there are daily soups, rice and meatballs in a heated cabinet as well.
I always swoop in for the papery thin but ever so tasty feta, mint and walnut wrap (quite small but pricey at £3.50) - the combination of the salty cheese with the tang of the mint is beautiful, and the walnut adds a little crunch too - but oday I was in the mood for something extra so went for the herb souffles (£2.50 for two). Each one about the size of London's other craze, cupcakes, the souffles are a vibrant green and quite solid, holding their shape when attacked with a fork. I could detect the underlying egg bind, spinach, parsley and another couple of herbs in densely packed patty but felt it was woefully underseasoned. The small smatter of pomegranate seeds lift the taste a little but they could benefit from a little lemon, as could the small pot of creme fraiche that they come served with.
I know that it's always going to be tricky for a 'fast food' lunch joint to get everything right, especially on a certain budget as a new opening and in an area that doesn't have London's busiest footfall. There's a whole load of opportunity to be had as an independent operator in a city swamped by chains so at least Din Din's enterprising enough to act upon this; I just wish it wasn't quite so hit and miss.