Some people set sensible resolutions: 'I'll work out', 'I'm doing dry January', 'I'll eat well'. I didn't set myself any of those unless you count my interpretation of eating well to be eating at great places rather than turning to the rabbit food. It's been a mixed bag so far but this week really kicked things off - first
with a great meal at Tozi
and then with what was firmly one of the best meals I've ever eaten at
Duck and Waffle
.
Our late night reservation had been weeks in the making so by the time Saturday night rolled around, I was raring to hit the lift up to the 40th floor and survey my stomping ground below. For the uninitiated among you, Duck & Waffle sits pretty on the 40th floor of the Heron Tower and is open 24/7 so whether you're in need of a morning pick me up, a late night lounge or simply in the mood for a cocktail, this place ticks all the boxes. Just perhaps avoid if you're afraid of heights.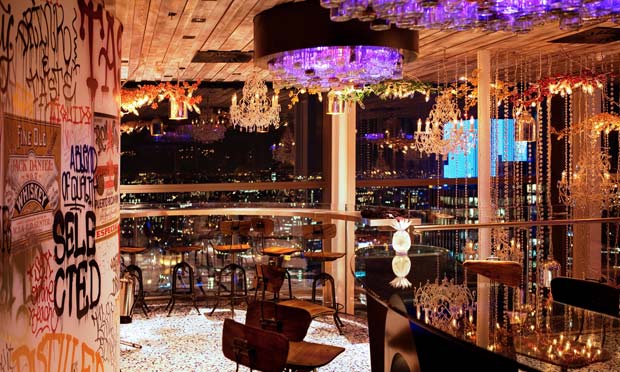 Luckily for us, S and I are huge fans of high places and we decided to raise a toast to our fantastic little corner table which gave us views across the city in two directions (seriously, try and nab one if you can, I promise you it's worth it). And of course, we had to break bread. Fresh out of the oven and deliciously hot nduja and gruyere bread, naturally, before choosing what else to feast upon.
Like a lot of places at the moment, Duck and Waffle is all about the small plates. Big enough to share, not enough to overwhelm and just the right amount to make you fall in love, they came thick and fast from the open kitchen and had us speechless in appreciation.
We kicked off with the achingly smooth Angus beef carpaccio which comes garnished with small spots of truffle, foie gras and pecorino - combinations of woody, earthy flavours that compliment the mild meat brilliantly. This is a dish I could happily eat for the rest of my life. Next up, the roasted octopus - succulent octopus combined with the meaty, almost tomatoey flavours of melting chorizo were melded together with lemon and caper for a bit of bite and mixed with potatoes. I gleefully scooped this up with first fork and then bread while S barely got a look in, because it was such a perfect plate.
Then came the Scotch bhaji - a new twist on the classic Scotch egg that's seeing a surge of popularity at the moment. Cumberland sausage meat encased a beautifully runny yolk, and crispy deep fried onion wrapped the whole thing together. It arrived on the plate like some twining vine with crunchy tendrils to break off and dip into the caramelised onion yoghurt. Fourth was the hugely decadent foie gras creme brulee with lobster - if ever there was a time to forget the diet, this must be it. The pot of molten pate, topped with the classic sugary crust which satisfyingly split with a crack or two of the teaspoon, demanded simultaneous dipping of the moreish lobster tails and the brioche toast immediately.
Our final dish - and perhaps the one we didn't really need to order because the first four plates were exceptionally filling - was the jerusalem artichoke ravioli. From the 'For the table' part of the menu, this is meant as a sharer and sits alongside the eponymous duck and waffle which (whisper it) we didn't really fancy ordering. Instead, this gorgeous pasta dish came served in a heavy skillet and was topped with charred cauliflower, smoked butter and malt crumble - a sexy comfort food if ever there was and tasty enough to satisfy my meat-loving companion.
I would have loved to have tried one of the desserts - especially the pistachio and dark chocolate macaroon sandwich with drunken cherries - but I was so full from gorging on the fantastic mains that I think it's a brilliant excuse for another visit. Rich (
the cocktail maestro
) sent us over two delicious cocktails to try: the Duck & Stormy (rum and ginger in a brown bag) and a Removed Aviation (gin, violet and citrus juices) so we graciously sipped on those instead before bowing out at a civilised 1am.
Having looked forward to eating at Duck and Waffle ever since it opened, it definitely didn't disappoint. Dining at height late at night lent itself perfectly to romance and fun in equal measures; the ever-changing atmosphere reflected the ever-changing clientele, and we were bouncing around to Al Green and Mark Morrison from start to finish. The service, as you'd expect, was brilliant - unobtrusive but friendly, polite and there when you needed them and still going after hours on end. My only gripe? That I can't call that little corner table my own and eat there whenever I'd like... Maybe that can be next year's resolution.