Living in London, there's never an excuse not to grab drinks or dinner after work. There's no train to hare back to Waterloo for (unless it's a Friday and I'm heading home for the weekend) and there's definitely no shortage of choice.
After discovering that
Milk & Honey
was strictly members or reservations only, they pointed us in the direction of their sister bar,
The Player
. The Player's a lounge bar through and through, a throwback to the 70s with swirling wallpaper, orange-toned wood and a huge brown velour sofa. It feels a little bit disco, a little bit dingy - and in the heart of Soho, next to Agent Provacateur and a stone's throw away from ol' Raymond's strippers strip, you'd be hard-pressed to believe it's only been going since 1998.
We found the cocktail menu a little limiting, and in the end I asked for an off-the-list mojito which was quickly rustled up, and admittedly delicious. T went for the Anejo highball - a concoction of rum, curacao, lime juice, ginger beer and angostura. We cast an eye over the beer and boilermaker choices - a 'classic combination of beer and a shot' (who knew?!) and saw Rosie (from
The Londoner
) being served a teamwork (to share) creation in a disco ball. We were left a little cold so paid the £20-for-two-cocktails-tab and headed on to our dinner destination...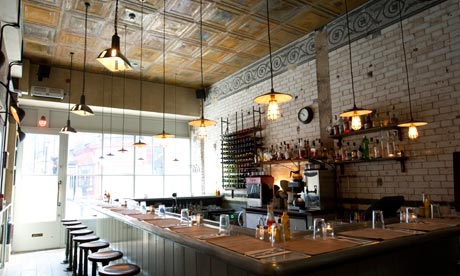 A pal of mine has raved about
Spuntino
for a couple of years, and despite working about four doors away from it for the past 18 months, I hadn't made the trip. Until last night. Part of the Polpo/Polpetto/
Mishkin's
crew, Spuntino is a laidback 'diner' squeezed round three sides of a bar and a popcorn machine. As with most places in London these days, there's no reservations so come as you are - and hope you get a seat! We waited for about an hour (the barman who'd promised us ten minutes was very apologetic and gave us a mug of pale each on the house) and sipped at a Negroni (for T), and a Clover Club (for me).
When we grabbed a seat, we were given a cup of hot and fresh popcorn, with a shaker of chilli salt. We dove straight into the ordering and didn't have long to wait before our choice of four Spuntino sliders (for £18) appeared. Doing the noble thing, we each ate half of each - ground beef & pickle, pulled pork & apple, lamb & beetroot, and the prawn po' boy. I honestly couldn't choose a favourite, each were the right side of succulent and terribly moreish. We also shared the macaroni cheese - bubbling away in a skillet, it was very tasty but didn't quite match up to Mishkin's sister serving of salt beef and triple cheese. But what macaroni cheese really can?!
photo from the Coal Vaults website
From there, we gave newly opened
Coal Vaults
a try for one last drink before home. As the name suggests, it's underground and all exposed brickwork and alcoves (hmm, is London losing its originality?). Small plates are matched to the cocktail list (a nice touch) and we saw sliders aplenty, sitting happily alongside antipasti, and even pulled rabbit. The menu changes frequently but the cup of free chilli popcorn doesn't - and it was much more flavoursome than it's earlier counterpart - to keep you ticking over before your cocktails arrive. I went for the Naxi Classic - Remy VSOP, fresh szechuan pepper, sugar and prosecco with a grapefruit twist - which brought the right amount of fizz, zing and citrus as a new take on something sparkling. The prices look good and the staff friendly but we were originally told we could only sit at the bar as 'the tables are booked' - fair enough, but they stayed empty until gone 10 so we must have been in the company of ghosts. I definitely want to head back and sample the potted crab. Oh, and the homemade pasta. And the antipasti from i camisa. Hell, I want to go try it all.